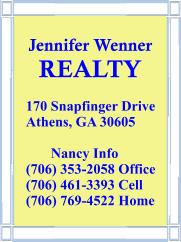 "Your Real Estate Needs Are My Concern"

Nancy Connell is a native of Athens Georgia, graduated from the University of Georgia (UGA), and for 37 years has been a broker and agent. For over 27 years Nancy has sold homes and Real Estate in Athens Ga. and its surrounding areas. Because of her long time familiarity with the local area market, she concentrates her residential homes, lots, land and commercial property sales efforts on the communities of Athens and Watkinsville and the counties of Clarke, Oconee, Jackson, Oglethorpe, Madison and Barrow. However, she is a licensed broker and can act as a broker/ agent in any area of Georgia (GA).
Nancy is an Associate Real Estate Broker with Jennifer Wenner Realty. She is a Life Member of the Athens Georgia Area Association of Realtors "Million Dollar Club", winner of the (AAAR) "Phoenix Award", former member of the "Leading Edge Society" (top 6% nationally), an Accredited Buyer's Representative (ABR), and has her Georgia GRI designation. Her slogan, "Your Real Estate Needs Are My Concern", is not just words. Nancy will do everything she can as a professional agent to ensure that her customers purchase only homes or other properties that suit their real estate needs and will prove to be wise long term investments. Let her help you with your plans for relocation or land, lot, commercial property purchases.
To reiterate, Athens Georgia is a truly wonderful area to settle in. It has been listed in several major publications as one of the top ten areas in the country to relocate or retire to. Get in touch with Nancy to help you with your plans. Her knowledge, professionalism and genuine interest in your needs will serve you well in finding the perfect property.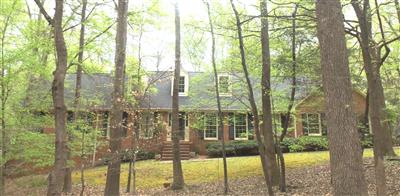 "Coming Soon"
All American Home
Eastside Athens